A Best Paper Award has been created in memoriam of Prof. Harm Dorren of the department of Electrical Engineering and scientific director of COBRA from Eindhoven University of Technology (TU/e), who passed away unexpectedly on 30th March 2015. He just returned from giving an invited talk in a workshop at the OFC in Los Angeles. On his return to Amsterdam, he was taken to the Amsterdam University Hospital where he sadly passed away from the serious infection he suffered from.
The prize goes to the best regular paper that has been submitted in Sub-Committee 4 "SUBSYSTEMS FOR OPTICAL NETWORKING AND FOR DATACOMS" and is related to the research field of Harm Dorren.
The winning team will be announced at the closing session of ECOC 2015.
photo: Bart van Overbeeke - https://www.tue.nl/en/university/news-and-press/news/30-03-2015-tue-professor-harm-dorren-ee-suddenly-deceased/
Harm Dorren received his MSc degree in Theoretical Physics in 1991 and the PhD degree in Geophysics in 1995, both from Utrecht University, the Netherlands. He joined Eindhoven University of Technology in 1996 where he most recently served as a full professor and as the scientific director of COBRA – the Inter-University Research School on Communication Technologies Basic Research and Applications. COBRA is one of the world's top institutes in the field of optical communications. Between 1996 and 1999, he also was a part-time researcher in KPN-Research in the Netherlands. In 2002 he was a visiting researcher at the National Institute of Industrial Science and Technology (AIST) in Tsukuba in Japan. In 2013 and 2014 he was a visiting researcher at the Massachusetts Institute of Technology (MIT) in Boston, USA.
In 2002 he won a VIDI award, and in 2006 a VICI award, which are individual grants from the Dutch Organisation for Scientific Research (NWO). Harm was recognized as a leading scientist in his field. He had a wide range of research interests, including optical (packet) switching, optical signal processing, ultrafast photonics, and most recently optical interconnects in data centres. With his entrepreneurial spirit, he started a company on data centre technologies. Harm Dorren (co-)authored numerous papers in journals and conference proceedings and served as an associate editor of the IEEE Journal of Quantum Electronics between 2005 and 2009. As the scientific director of COBRA he was one of the key players in the photonics research. He also has served many years in the TPC of ECOC, and was TPC co-chair in ECOC 2012.
Besides passion for his research and his students, Harm was a dedicated family man and together with his wife Naoko immensely proud on their two young sons Maurits and Keitaro.
Winner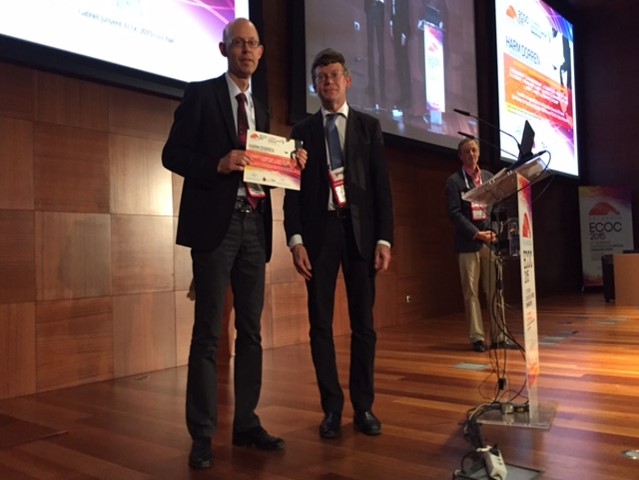 G. DE VALICOURT(1)*, S. CHANDRASEKHAR(1), J. H. SINSKY(1), C-M. CHANG(1), Y. K. CHEN(1), M. A. MESTRE(2), Y. POINTURIER(2), S. BIGO(2), J.-M. FEDELI(3), L. BRAMERIE(4), J.-C. SIMON(4), L. VIVIEN(5), A. SHEN(6), A. LE LIEPVRE(6), G. H. DUAN(6)
"Monolithic Integrated Reflective Polarization Diversity SOI-based Slot-Blocker for Fast Reconfi gurable 128 Gb/s and 256 Gb/s Optical Networks"
(1)Alcatel-Lucent Bell Labs Holmdel, (2)Alcatel-Lucent Bell Labs Nozay, (3)CEA LETI,(4)Univ. de Bretagne, (5)Inst. d'Electr. Fond., (6)III-V Lab